How many people are currently homeless in Glynn, Camden, McIntosh, Bryan, and Liberty Counties? How many of them are families, youth, seniors, or veterans? The answers to these questions may soon be answered as Safe Harbor Center and its collaborative partners began the Point-In-Time (PIT) count on Monday, February 21.
The PIT count aims to calculate the number of individuals and families experiencing homelessness on any given night in our community.  The count records the number of individuals staying in shelters and transitional housing and estimates the number of individuals who are unsheltered — sleeping outdoors, in parks, on the street, in vehicles, abandoned buildings, under bridges, and other places not meant for human habitation.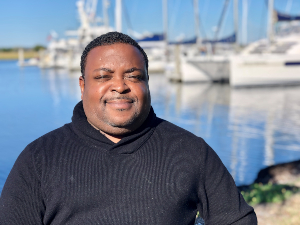 Jeff Clark, director of street outreach for Safe Harbor Children's Center said in a statement that the Point-In Time Count is an essential tool that provides insight into the current state of homelessness in each county within Coastal Georgia.
"It's the first complete count done since the COVID-19 pandemic began, which we've worked to keep people experiencing homelessness safe through but whose effects we need to assess across the region," he said. "It's more important now than ever before for us to understand what homelessness looks like across Coastal Georgia.   If we can understand people experiencing homelessness better — who they are, what may have led them to becoming homeless, and what health challenges they may have — we can create more effective strategies and deploy resources as effectively as possible moving forward."
Two all too-real examples of homelessness recently revealed themselves when contacting Safe Harbor's Street Outreach program in search of help:
He served his country and did three tours in Iraq. He experienced death, war, and battle. He came home with an honorable discharge, post-traumatic stress disorder and few employment opportunities. One piece of bad luck followed another until he found himself sleeping in the alleyway of a shopping center. He just wants a job and the chance to get his life together again.

She is a woman of a certain age, a homemaker married for 30 years before her husband left her. The last thing she would ever do is to become a burden to her grown children who live in different states. They think Mom is doing OK, but Mom is not OK. You see, she lost her house eight months ago and has been sleeping in a car every night since and visiting libraries in the daytime hours trying her best to blend in.
Tabulating the regions homeless population is no small feat.  Hundreds of volunteers have been mobilized to assist, making up teams of three to four people to help count and administer a survey to our neighbors experiencing homelessness.  Organizations involved in the PIT count include Safe Harbor Center, Coastal Georgia Area Community Action Authority, FaithWorks Ministry, Saved by Grace, Manna House, Family Promise, Coastal Community Health Services, Alpha Kappa alpha, Omega Psi Phi, and many more.
In the past, volunteers carried clipboards and filled out written forms with their tabulations. But this year, volunteers can use an app to log in the information while maintaining a distance amid the continued threat of the pandemic. The shift to a digital count that captures accurate data and demographic information in real time is a crucial step toward reducing homelessness.
Homelessness is a complex social problem with a variety of underlying economic and social factors such as poverty, lack of affordable housing, uncertain physical and mental health, addictions, and community and family breakdown. These factors, in varying combinations, contribute to duration, frequency, and type of homelessness. To be fully homeless is to live without shelter; however, many experience partial homelessness that can include uncertain, temporary, or sub-standard shelter.