So much more than just a job!
If you're looking to…
make a difference in the lives of children and families in Coastal Georgia
be challenged, inspired, respected and appreciated
join a winning team of caring professionals
advance and grow in your career
earn a competitive salary
…then explore the career opportunities available at Safe Harbor Center
At Safe Harbor, we continually strive to provide employees with a healthy work/life balance, excellent personal growth opportunities and a path to career enhancement.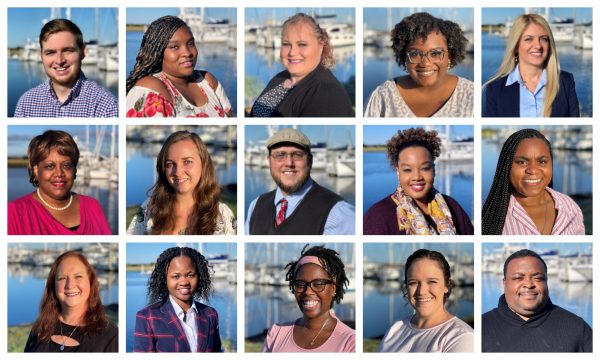 Safe Harbor Center offers a variety of career opportunities, both full-time and part-time, at our primary campus in downtown Brunswick, as well as office locations in Camden, McIntosh, Wayne, Appling, Jeff Davis, and Bryan counties. Experience and qualifications vary depending on the position.
Safe Harbor Center is an Equal Opportunity Employer that does not discriminate on the basis of actual or perceived race, creed, color, religion, alienage or national origin, ancestry, citizenship status, age, disability or handicap, sex, marital status, veteran status, sexual orientation, genetic information, arrest record, or any other characteristic protected by applicable federal, state or local laws. Our management team is dedicated to this policy with respect to recruitment, hiring, placement, promotion, transfer, training, compensation, benefits, employee activities and general treatment during employment
Current Available Positions
Job Title: Part-Time Child Care Worker
Position Description: Child Care Workers create a safe and nurturing home environment for residents and are responsible for their physical wellbeing and social development. This position is part-time for the care of the children.
Position Type: Part-Time
Shift(s): 7:00am-3:00pm (Saturday & Sunday only)
How to Apply: Click Here
Job Title: Emergency Shelter Case Manager
Position Description: Responsible for case management of Individuals and families. In addition, the Case Manager will conduct intakes and housing assessments, counseling services, crisis intervention, resource referrals and case management to homeless individuals and families throughout Glynn, Camden, McIntosh, Liberty, Bryan and Wayne County.
Position Type: Full Time
Shift(s): 9:00 am – 5:00 pm (Monday – Friday)
How to Apply: Click Here  
Job Title: Victim Advocate – Glynn County
Position Description: The Victim Advocate is responsible for providing advocacy services to child victims and their families when sexual abuse and/or serious physical abuse has been alleged to the children and families being served by the Multidisciplinary Team (MDT) and the Child Advocacy Center (CAC) in Glynn County.
Position Type: Full Time – Glynn County
Shift(s): 9:00 am – 5:00 pm (Monday – Friday)
How to Apply: Click Here  
Job Title: Victim Advocate – Wayne County
Position Description: The Victim Advocate is responsible for providing advocacy services to child victims and their families when sexual abuse and/or serious physical abuse has been alleged to the children and families being served by the Multidisciplinary Team (MDT) and the Child Advocacy Center (CAC) in Wayne County.  This office is located at 168 E. Pine Street, Jesup GA.
Position Type: Full Time – Wayne County
Shift(s): 9:00 am – 5:00 pm (Monday – Friday)
How to Apply: Click Here