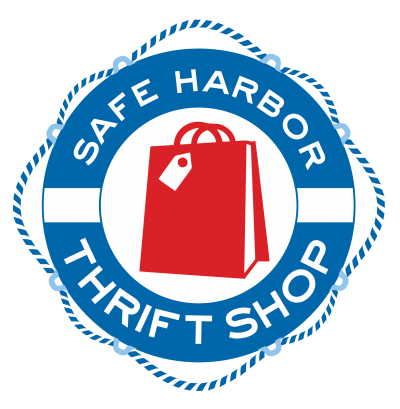 The Safe Harbor Thrift Shop and Donation Center is everything you want in a shopping experience – a clean space, friendly service, and a wide selection of high-quality, gently used, merchandise for women, children and men of all ages and sizes.  The store is filled with familiar brands such as Ralph Lauren, J. Crew, Peter Millar and Vineyard Vines, and nearly everything is priced $5 or less.
WE ARE OPEN TO THE PUBLIC!
Shop or donate items during our store hours
Monday, Wednesday, and Friday, 11am – 2pm
The Safe Harbor Thrift Shop and Donation Center is located at
1600 Norwich Street, Brunswick, Georgia 31520.
(Parking is available on the street or in the lot behind the building)
All donations and proceeds from sales help provide necessary support and clothing needs for all Safe Harbor clients and those of its community partners.   Safe Harbor works with Communities in Schools, a nonprofit that helps at-risk students in Glynn County Schools, and with the Glynn Community Crisis Center, which runs a shelter for victims of domestic violence. Youth and adults in these programs are able to shop for free in the store through a voucher program.
Donate Items
The Safe Harbor Thrift Shop & Donation Center accepts donations of gently used clothing, shoes, handbags, and jewelry for women, children and men of all ages and sizes.  Please make sure that your donations are clean and usable.  Donations are tax-deductible, and all proceeds support the work and mission of Safe Harbor Center.
Volunteers Needed
At the heart of Safe Harbor Center's efforts are our volunteers. Volunteers are always needed for a variety of meaningful opportunities: providing customer service, receiving inventory, and other duties in the store.  For information about volunteering or donating items email Hillary Johnston.
The Thrift Shop and Donation Center offers a job skills training program that allows individuals served by Safe Harbor to learn retail and marketing skills by assisting us with sorting, pricing, displaying, and selling items in the store. The skills learned help prepare them to enter the workforce.