Safe Place provides access to immediate help and supportive services for youth in need of accessing safety as a result of bullying, suicidal thoughts, homelessness, abuse, and neglect. As a community initiative, the program designates schools, fire stations, libraries, and other youth-friendly organizations as Safe Place locations, creating a safety net for youth throughout Coastal Georgia.
When teens find themselves in crisis or need a place to stay, they should know how and where to get help. Our community's young people deserve safety and shelter, and many youth feel they don't have either. Thanks to Safe Place, immediate help is never too far away.
Safe Place is a national youth outreach and prevention program for young people under the age of 18 in need of immediate help and safety. As a collaborative community prevention initiative, Safe Harbor partners with local businesses and organizations to serve as designated Safe Place locations, making help readily available to youth in communities across the country.
This network of Safe Place sites is an extension of our outreach to homeless and runaway youth. When a youth sees the distinctive yellow diamond sign with black lettering saying 'safe place' and walks in to ask for help, trained staff at the Safe Place site are able to connect each youth to our resources here at Safe Harbor for further support.
Youth often experience difficult challenges during their young lives. These may lead young people to make difficult, and sometimes dangerous decisions in an effort to escape what it is they are going through. Sometimes, youth feel they don't belong, and leaving home is often not a choice they want to make. Providing Safe Place as a resource for youth provides a safety net for them, thereby strengthening families and communities.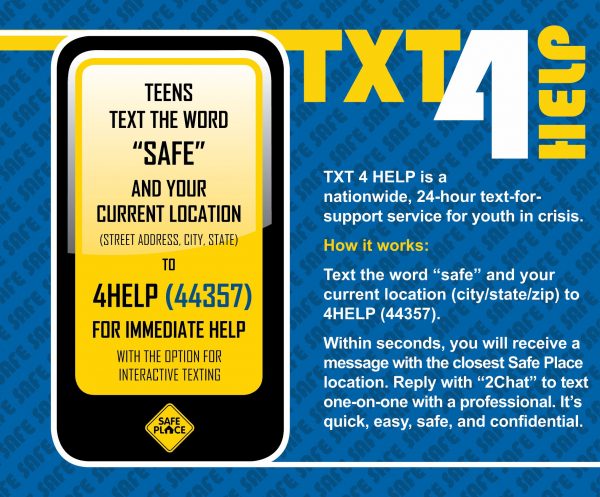 Sometimes youth need help and safety from an immediate threat from strangers and even friends. Riding with an unsafe or under-the-influence driver can be a very real danger. Being separated or stranded from friends in unfamiliar and possibly dangerous surroundings can lead to tragic outcomes. Safe Place can provide a safe way to get reconnected with loved ones, possibly preventing victimization and further injury.
Regardless of the reason, young people have a place to turn in times of need. Youth may visit any designated Safe Place location and receive immediate help. They may also TXT 4 HELP to receive information about the closest Safe Place location and to chat with a professional for more help.
HOW SAFE PLACE WORKS
Step One – A young person enters a Safe Place and asks for help.
Step Two – The site employee finds a comfortable place for the youth to wait while they call Safe Harbor.
Step Three – Within 30 minutes, a Safe Harbor staff member will arrive to talk with the youth and, if necessary, provide transportation to the agency.
Step Four – Once at Safe Harbor, counselors meet with the youth and provide support. Our staff makes sure the youth and their families receive the help and professional services they need.
Along with accessing Safe Place in person, youth may also TXT 4 HELP to receive information about the closest Safe Place location and chat with a professional for more help. TXT 4 HELP is a nationwide, 24-hour text-for-support service for youth in crisis.
Today, due to COVID-19, families are experiencing intensified containment measures and children are at a heightened risk of abuse, neglect, exploitation, and domestic violence. Situations like this can easily leave a young person needing someone to talk to – or a young person needing a safe place to go.