In celebration of National Safe Place Week, March 21-27, mayors of the city of  Brunswick and Woodbine, Cornell Harvey and Kizzi Knight, joined efforts to shine a spotlight on Safe Place, an outreach and prevention program for youth in crisis.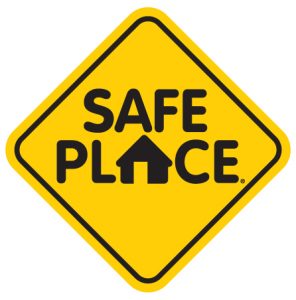 You have probably seen the familiar yellow sign shaped like a diamond with the words Safe Place written in big, black letters and wondered what exactly it meant.  For many throughout Coastal Georgia, the sign is a lifesaver for youth who are in need of help.
Safe Place, a program of Safe Harbor Children's Center, provides access to immediate help and supportive services for youth in crisis and in need of accessing safety.
Youth often experience difficult challenges during their young lives. These may lead young people to make difficult, and sometimes dangerous decisions in an effort to escape what it is they are going through. Sometimes, youth feel they do not belong, and leaving home is often not a choice they want to make. "It is often scary and overwhelming to be a young teenager and feel like you have nowhere safe to turn to," said Rashida Bridges, Safe Harbor's Safe Place Coordinator.  "Providing Safe Place as a resource for youth provides a safety net for them, thereby strengthening families and communities."
Sometimes youth need help and safety from an immediate threat from strangers and even friends. Riding with an unsafe or under-the-influence driver can be a very real danger. Being separated or stranded from friends in unfamiliar and possibly dangerous surroundings can lead to tragic outcomes. Safe Place can provide a safe way to get reconnected with loved ones, possibly preventing victimization and further injury.  Regardless of the reason, young people have a place to turn in times of need.
Since the program began in 2011, neighborhood partners and businesses have banded together to ensure that runway and homeless youth in our community get the help they need when in crisis. "It takes a village" as the saying goes—and the program's success depends on active participation from people in our community. We are honored to have expanded to more than 147 Safe Place locations throughout Coastal Georgia. This means that young people can get connected to help immediately—be it on a school bus, at the library, a city park, a coffee shop, and local churches. This network of Safe Place sites is an extension of Safe Harbor Center's Runaway and Homeless Youth Emergency shelter, Zach's Place.
Youth may also use TXT 4 HELP, a 24-hour text-for-support service, to receive information about the closest Safe Place location and chat with a professional for more help. Users can text the word "SAFE" and their current location to 44357.
For more information or to become a Safe Place provider, call 912-342-7068.