Programs for Abused, Neglected, and Homeless Children and Families recognized for Excellence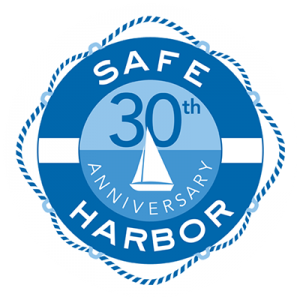 Strengthening its reputation as a model for nonprofit organizations dedicated to serving abused, neglected, and homeless children and families, Safe Harbor Center has achieved three-year accreditations from The Commission on Accreditation of Rehabilitation Facilities (CARF) in five program areas including Community Housing and Shelters, Community Youth Development, Diversion/Intervention, Group Home, and Residential Treatment.
The accreditation decision represents the highest level of accreditation that can be awarded to an organization and shows the organization's substantial conformance to the CARF International standards. An organization receiving a Three-Year-Accreditation has put itself through a rigorous peer review process. It has demonstrated to a team of surveyors its commitment to offering programs and services that are measurable, accountable, and of the highest quality.
As documented in the Survey Outcome Report, surveyors noted, "Safe Harbor Center has many strengths, including its commitment to quality care, effective leadership and governance, hardworking and highly enthusiastic staff members, positive service delivery and workforce cultures, data-informed decision-making, and responsiveness to the needs of the community services."
"We are honored to be recognized for our continued adherence to the highest standards that define quality care and our commitment to providing exceptional services to the youth and families of our community", said Leslie Hartman, Executive Director of Safe Harbor Center. "At Safe Harbor, we believe that it is our responsibility and privilege to deliver exceptional programs and services. Our commitment to quality is more than a promise, it is the foundation of our organization and a cornerstone of our continued success".
Established in 1991, Safe Harbor Center is celebrating 30 years of service to breaking the cycle of poverty, abuse, and homelessness through Brunswick and the Golden Isles. Since Safe Harbor first opened its doors in Brunswick, the organization has grown exponentially, with 13 offices in communities across Coastal Georgia. Throughout this period of growth, the organization has successfully maintained its mission to provide services that promote security and stability for at-risk families, children, and individuals. That mission is powered by eight programs: Safe Harbor Children's Center, Family Preservation, Safe Place, STRIVE Transitional Living Services, Zach's Place: An Emergency Shelter for Runaway and Homeless Youth, Children's Advocacy Center, Connie Smith Rape Crisis Center, and Street Beat.
CARF is an independent, nonprofit accrediting body whose mission is to promote the quality, value, and optimal outcomes of services through a consultative accreditation process and continuous improvement services that center on enhancing the lives of the persons served. Founded in 1966 as the Commission on Accreditation of Rehabilitation Facilities, and now known as CARF International, the accrediting body establishes consumer-focused standards to help organizations measure and improve the quality of their programs and services. For more information about the accreditation process, please visit the CARF website at www.carf.org.
For additional information, please contact Keith Fenton, Director of Development, at 912-267-6000.