On December 3, in a powerful show of support and solidarity for youth overcoming homelessness, Jekyll Island residents, Anthony Kontaxis and Keith Fenton, will join other concerned citizens by giving up the comforts of home for one night to sleep outside – vulnerable, exposed, and uncomfortable – to raise awareness and funds to support homeless youth in Brunswick and the Golden Isles.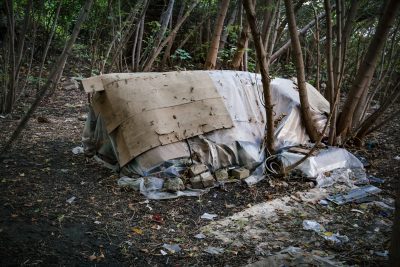 Much like communities throughout the state of Georgia, Glynn County an d surrounding communities in Coastal Georgia are struggling with high levels of poverty and homelessness, especially among children and youth.
"The problem is bigger than you know, the victims are smaller than you think, and the solutions start with a community response", said Jekyll Island resident, Keith Fenton. "Some 4.2 million young people will experience homelessness this year. Of those, forty percent are under the age of 18. They are our community's invisible homeless population, sleeping outdoors, in parks, on the street, in vehicles, abandoned buildings, under bridges, and other places not meant for human habitation The longer our youth remain homeless, the greater the risk that they will be trapped on the streets where they are vulnerable to victims of crime, hunger, illness, mental health issues and dying prematurely".
Anthony Kontaxis, a Jekyll Island resident and realtor at Jekyll Realty, said "We live in a beautiful community and I feel extremely fortunate to be able to call Jekyll Island "home". However, I know that just over the Sidney Lanier Bridge is a community where many children and youth are in crisis. I believe that no young person deserves to be homeless and that every young person deserves to be hopeful. Therefore, rather than simply talking about the issue, I wanted to raise funds to help children and youth escape the traumatic experience of homelessness and ensure that every young person has safe shelter, food, essential services, and an opportunity to achieve their dreams".
Founded in 1991 by Jekyll Island residents, Susan and Bob Hamer, Safe Harbor Children's Center serves children, families, and individuals who have been abused, abandoned, or neglected, who are homeless or have run away from home, or who are otherwise at risk or feel threatened.
Hosted on the campus of the College of Coastal Georgia, Not My Roof is a unique special event designed to encourage awareness, empathy, and understanding for the immeasurable odds that young people face overcoming homelessness. The funds raised through Not My Roof will support 4 key programs of Safe Harbor Children's Center that serve the needs of homeless youth. They include Zach's Place: An Emergency Shelter for Homeless and Runaway Youth, Street Beat, STRIVE Transitional Living Services, and Safe Place.
To make an online donation to support homeless youth and the fundraising efforts of Fenton and Kontaxis, visit https://safeharborcenterinc.networkforgood.com/projects/141672-not-my-roof