Not My Roof Campaign to Address Homeless Youth Crisis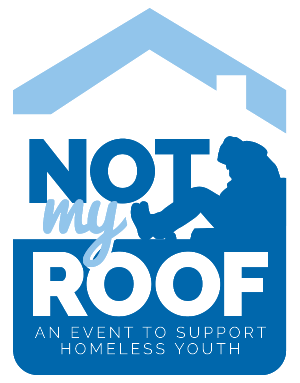 On Friday, December 3, in a powerful show of support and solidarity for youth overcoming homelessness, individuals and families from all walks of life will give up the comforts of home for one night to sleep outside – vulnerable, exposed, and uncomfortable – for Safe Harbor Center's homeless youth awareness campaign, Not My Roof.
Hosted on the campus of the College of Coastal Georgia, Not My Roof is a unique special event designed to encourage awareness, empathy, and understanding for the immeasurable odds that young people face overcoming homelessness. Upon arrival, each participant will receive a blanket, cardboard box, a basic essentials kit, and a memorable experience throughout the evening.  Not My Roof is not about pretending to be homeless.  On this one evening, Not My Roof participants help will spread awareness about the youth homelessness crisis and raise urgently needed funds to support Safe Harbor Center's efforts to provide shelter, food, crisis care, and essential services to children and youth experiencing homelessness.
Much like communities throughout the state of Georgia, Glynn County and surrounding communities are struggling with high levels of poverty and homelessness, especially among children and youth. "The problem is bigger than you know, the victims are smaller than you think, and the solutions start with a community response", said Safe Harbor's Director of Development, Keith Fenton.  Some 4.2 million young people will experience homelessness this year. Of those, forty percent are under the age of 18.

"They are our community's invisible homeless population, sleeping outdoors, in parks, on the street, in vehicles, abandoned buildings, under bridges, and other places not meant for human habitation", Fenton added.  "The longer our youth remain homeless, the greater the risk that they will be trapped on the streets where they are vulnerable to victims of crime, hunger, illness, mental health issues and dying prematurely."

Safe Harbor hopes the community will consider participating in this important event to gain a glimpse of what homelessness is like for so many children and youth. "We believe that no young person deserves to be homeless and that every young person deserves to be hopeful. We believe it is our responsibility as a community to ensure that every young person has an opportunity to achieve their dreams," said Safe Harbor's Street Outreach Director, Jeff Clark.
Not My Roof is open to individuals, families, friends, schools, places of worship, and workplaces to be part of the solution to end youth homelessness.  Teams, much like individual participants, are a vital component of Not My Roof. Participating as a team serves to engage in a purposeful way, forging new and deeper connections, and contributing to a culture of caring for our community.
The funds raised through Not My Roof will support 4 key programs of Safe Harbor Center that serve the needs of homeless youth.  They include, Zach's Place: An Emergency Shelter for Homeless and Runaway Youth, Street Beat, STRIVE Transitional Living Services, and Safe Place.
Homelessness is a complex social problem with a variety of underlying economic and social factors. Most homeless youth come from homes characterized by high levels of physical, sexual, and emotional abuse, poverty, lack of affordable housing, uncertain physical and mental health, and community and family breakdown. These factors, in varying combinations, contributes to a heavy toll on America's youth.
To register or to learn more about Safe Harbor Center's Not My Roof event on December 3, visit www.notmyroof.org or call 912-267-6000.